Recently, I was invited by the good people of the New Yorker to add a humorous caption to one of their popular comics!  After spending hours typing and retyping, I finally came up with a winner - presented here below - and sent it off!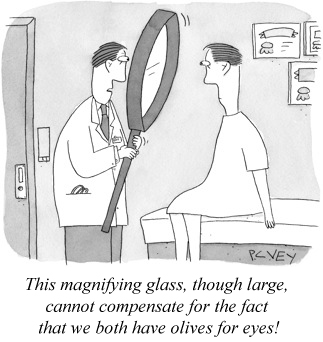 Ho ho!  I am laughing still!  Neither of the men can see, due to their anatomical oddities!
But when the magazine was published, I was saddened to see not my own, but another bear's caption instead!   Apparently the invitation hadn't been just for me after all.  Rather, it is a weekly contest!
The winning entry read, "This might burn a little."  I can only assume my fellow captioneer was referring to the juice in which the olives were steeped!
Though I felt slighted by the New Yorker, I may enter the contest again, if the mood strikes!